Tony G has won the biggest poker pot of all time worth $7,750,653 vs. "HannibalGetya" in a massive $5,000/$10,000 PLO cash game on CoinPoker!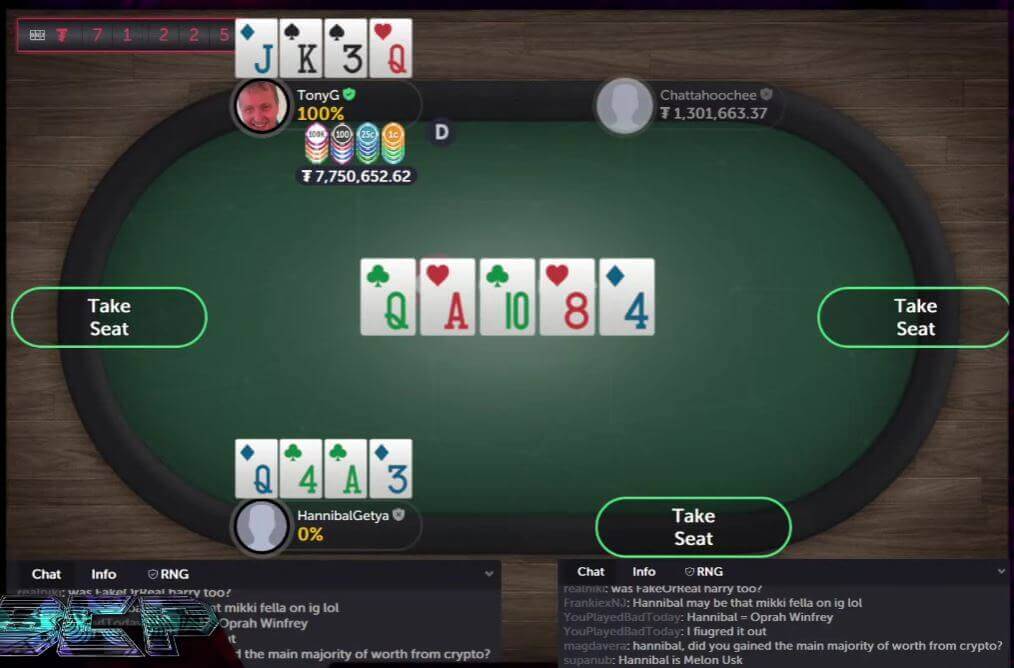 The online high stakes cash game action is absolutely insane and games are bigger than ever before at the moment!
Only a few days after there were three seven-figure pots at GGNetwork, this was topped by a mile with the by far biggest online pot of all time worth $7,750,653 in a huge $5,000/$10,000 PLO cash game on crypto poker site CoinPoker.
Summary of the biggest pot in poker history
The record-breaking hand striking was played 3-handed at the CoinPoker $5,000/$10,000 PLO tables. Players are very deep with effective stack sizes being 380 big blinds. "HannibalGetya" has Tony G easily covered.
Tony G raised from the button with J♦K♠3♠Q♥ to $35,703, "Chattahoochee" in the small blind called and "HannibalGetya" squeezed from the big blind with Q4♣A♣3 for to $148,812, both players called. Pot Size: $451,638
On a flop of Q♣A♥10♣ "HannibalGetya" made a continuation bet of $225,818, Tony G called and "Chattahoochee" got out of the way. Pot Size: $903,275
The turn was the 8♥, which prompted a pot bet of $903,275 from "HannibalGetya". Tony G shoved All-In for $3,423,689 and was snap called by "HannibalGetya". Pot Size: $7,750,653!
Tony G turned over for Nuts, while "HannibalGetya"' had Top Two and the nut flush draw. A quick look at the odds reveals that "HannibalGetya"' has still odds of 30% to win the hand on the turn with his strong draw, although Tony currently has the Nuts:
The 4♦ on the river is a blank though and Tony G wins the biggest poker pot of all time worth a staggering $7,750,652.62.
Watch the biggest poker pot of all time from 9:20:00:
Former biggest poker pot
Tony G's new record pot is actually more than three times bigger than the previous biggest poker pot by Jason Koon!
In the video below you can watch the former biggest pot worth €2,090,000 ($2,372,035) between Jason Koon and Elton Tsang:
₮1100 Bonus
33% Rakeback
Freerolls | $35k Race | ₮40k Races
Upon making your first deposit, you will receive 100% up to ₮1100 welcome bonus, 33% rakeback and our exclusive race along with various other Coinpoker promotions.
Terms and conditions apply. New customer offer and 18+ only. Should you require help regarding your betting pattern, please visit www.begambleaware.org