Bitcoin is not only the world's biggest cryptocurrency, you can also play online poker using BTC. Mike McDonald is both, a professional poker player and a crypto-investor and therefore it wasn't too surprising to see him joining the Crypto After Dark show.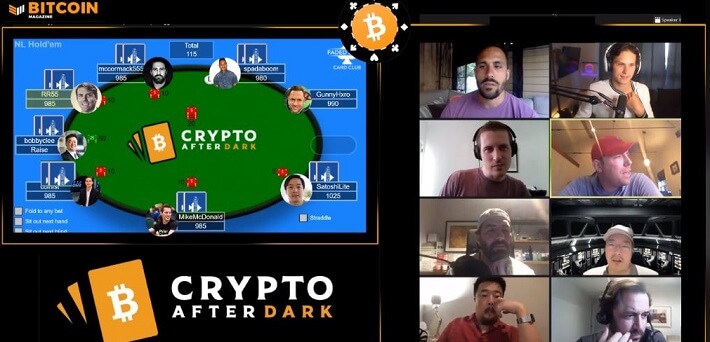 Playing my first cash game in years on stream! https://t.co/5xISxHupYX

— Mike McDonald (@MikeMcDonald89) June 19, 2020
What is Crypto After Dark?
Even though Mike has not played cash games in years he decided to hop in for the Crypto After Dark show. Crypto After Dark is a new format on the popular streaming website twitch.tv.
The show combines Bitcoin poker and the participants discuss some of the most recent news in the world of cryptocurrencies. They welcome new guests to the show in every episode and it is really interesting to see what the pioneers of crypto have to say about the current situation and possible development of Bitcoin and other cryptos in the near future.
Live #bitcoin Poker Game and epic crypto chats. Follow @btcpokergame for our weekly live stream show. https://t.co/vkhEH0EMOi

— Crypto After Dark (@btcPokerGame) June 19, 2020
The show is running every Thursday at 8 pm ET on Twitter and Twitch and if you consider yourself a crypto expert that wants to play in their cash game. you can simply send them a DM on Twitter and apply for the next episode.
Mike McDonald certainly didn't have to go through a long-lasting application process. He's been a highly successful poker pro for several years and started investing in cryptos a long time ago.
Even though the show was really interesting, be aware that each episode is around 3-4h long. Therefore you should definitely bring some time with you but it is certainly worth watching.
Is Hashrate in China a Threat to Bitcoin?@SatoshiLite thinks the risk is China decides to take over all the hash rate and attack #Bitcoin @nic__carter thinks it would be a catalyst to switch the POW function@BitcoinBirch and @VentureCoinist both all in with the same hand. pic.twitter.com/F72a6A0RBv

— Crypto After Dark (@btcPokerGame) June 16, 2020
The experts discuss multiple relevant topics such as the impact of the environmental impact of Bitcoin mining whether the hash rate in China might become a threat to Bitcoin.
So far, there have been seven episodes published in total and you can re-watch them all on the official Crypto After Dark Twitter account.
Recommended Bitcoin Poker Sites
Nowadays, there are multiple poker rooms that accept Bitcoin payments for both, deposits and withdrawals.
Currently, we are providing our members with exclusive poker rakeback deals for the top crypto poker site CoinPoker.
All of the sites displayed below offer poker welcome bonus offers up to $2,000, exclusive poker promotions and they are all officially licensed.
₮1100 Bonus
33% Rakeback
Freerolls | $35k Race | ₮40k Races
Upon making your first deposit, you will receive 100% up to ₮1100 welcome bonus, 33% rakeback and our exclusive race along with various other Coinpoker promotions.
Terms and conditions apply. New customer offer and 18+ only. Should you require help regarding your betting pattern, please visit www.begambleaware.org