Mason Malmuth, one of the owners of the legendary 2+2 forum, has announced that the business has been sold. Citing old age as the main factor, Malmuth said it was now time for a younger team to take over and give the website the energy it deserves.
Mason Malmuth Announces Sale of 2+2 Poker Forum

It really is incredible that 24 long years have passed since the 2+2 forum came into existence. This is, in fact, longer than online poker which started 23 years ago.
Malmuth writes that there was only a single forum on the launch date and the team thought it was a 50/50 shot that anyone would make a post. Luckily for the poker community, everything turned out well.
He also tells that the owners were not looking to sell but that an offer came in and on reflection they agreed that the timing was right to let new blood take the business to even greater heights.
The buyers are the owners of the Hand2Note HUD which has taken online poker by storm over the past couple of years, but little else is known about them right now. We are hoping they will take up Malmuth's invitation to post in his thread and introduce themselves.
End of an Era
It's possible that many of the younger generation of poker player don't fully appreciate just how big of an influence the 2+2 forum had on many of the greatest player's careers.
The forum had already been around for a few years when the Moneymaker Effect kicked off the poker boom giving players such as Phil Galfond and Doug Polk a place to learn from others and improve their skills.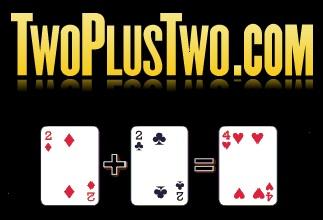 Although the game has evolved at speed, back in the day forum visitors were extremely lucky to be able to read the thoughts of those who were great poker theorists at the time, such as David Sklansky, Mike Caro, and Ray Zee. The range of books that came about because of the 2+2 publishing business that ran alongside the forum helped countless players make the jump from fish to winning player.
What Happens Next?
Until the new owners post we still don't have any idea about what the future holds for the biggest poker forum on the internet.
When Malmuth writes about "…people who are on top of all the latest programming technology and who should have the ability to make this site better than it ever was," he obviously thinks that the current team saw many possibilities to make improvements but it was beyond the scope of their expertise.
We can safely assume that a team of programmers who came up with the most advanced HUD around should be able to produce a more advanced website with new bells and whistles. Beyond that, we'll just have to wait and see.
One poster even saw fit to make a jibe along these lines:
"Good job turning what could easily have been a mid 8-figure business into…whatever this is. Too bad that 3% Obama tax on income over $250k prevented you from investing in and growing your business. Sad."
This is probably true: The Scheinberg family ended up being billionaires…
Don't forget to check out the latest poker news to see what's been happening in the poker world.
$2000 Bonus
27% Rakeback
27% Rakeback | $35k Race
Upon making your first deposit, you will receive $2000 bonus, 27% rakeback (or Elite Rewards) along with other exclusive promotions and races.
Terms and conditions apply. New customer offer and 18+ only. Should you require help regarding your betting pattern, please visit www.begambleaware.org