What is the EVERYGAME & JuicyStakes Bankroll Builder Series?
It was a close race until the very end in the Bankroll Builder Series. Evgeniy "Achinsk24" Chernyshov needed a victory in the last event to win and he achieved the incredible. Check out our recap and the winner interview after Evgeniy's incredible last-minute win.
The Bankroll Builder Series is an amazing private VIP-Grinders promotion for all our MTT players.
Over the course of four weeks our EVERYGAME & JuicyStakes players battled in weekly tournaments for $1,500 in added tournament prize pools, $2,000 in additional leaderboard cash prizes plus 5x hours of poker coaching with WSOP Bracelet winner Valdemar Kwaysser for the champion.
Very close race and a last-minute winner
And what a battle it was! Until the last tournament everything was possible with several players in contention for the leaderboard victory.
Evgeniy "Achinsk24" Chernyshov from Russia was only in 9th place after 3 of 4 events and needed a victory in the last tournament.
Having to win a tournament almost never works out, except for this time. Unbelievable, but true Evgeniy not only made the final table, he also won the tournament to steal the overall victory from VIP-Grinders players "nnn777" (2nd place for $350) and "magicorange" (3rd Place for $250).
$1000 Bonus
36% Rakeback
Freerolls | Chase | $35k Race
Upon making your first deposit, you will receive $1000 bonus and 36% rakeback along with our exclusive promotions and various other Everygame offers.
Interview with Bankroll Builder Series Winner Evgeniy Chernyshov
We did a short interview with Evgeniy Chernyshov after his incredible last-minute win:
"I first got to know about VIP-Grinders through the Twitch Poker channel of your partners Dorogie_Bratya.
Pasha and Roma spoke very highly about the upcoming Bankroll Builder series promotion at EVERYGAME. This sparked my interest and I registered at VIP-Grinders the same day.
The site offers a huge number of poker rooms, where you can get various bonuses such as rake races rakeback; various leaderboards, special first deposit bonuses and more.
Since I am not high-volume player, the Bankroll Builder Series promotion, consisting of four tournaments over a month time, stood out for me.
"I needed a top result to make it into the paid places"
I took part and managed to make the final table in 3 out of 4 events. Before the last tournament, I was only in 9th place in the leaderboard and needed a top result to make it into the paid places.
I not only managed to win the tournament, but also the leaderboard, which I am very grateful for.
I also want to thank my opponents for the epic battle. It was an exciting month, in which the aim to make the money faded into the background due to the desire to climb up the Bankroll Builder series leaderboard."
Payouts Bankroll Builder Series Leaderboard: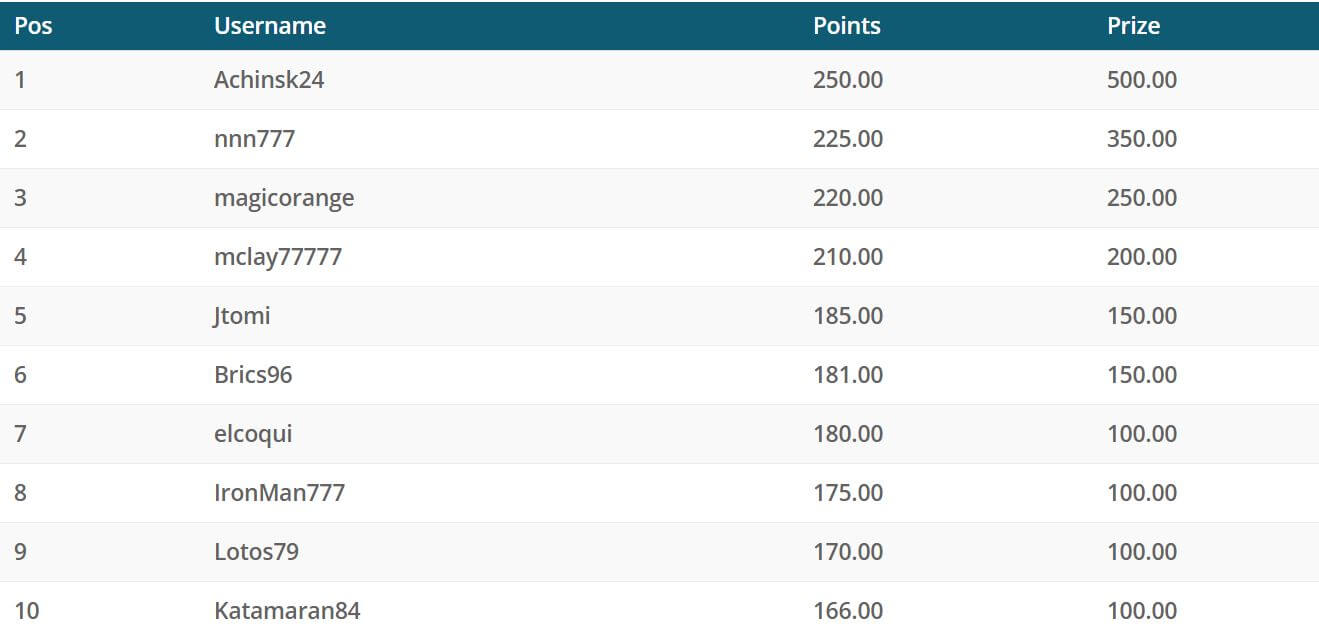 Terms and conditions apply. New customer offer and 18+ only. Should you require help regarding your betting pattern, please visit www.begambleaware.org